Description


ECO Farm ECOZ 250W/510W/700W/1000W series light with top-bin Samsung LM301H chips (5000K+3000K)+Osram (660nm+730nm)+Refond (395nm), offering all the necessary light effiency to your medicinal plants in whole growth stages - from VEG to Flower
Adjustable full spectrum 3 channels dimming way, each channel can be controllable separately.

UV IR seperately control
Passive cooling, no noise operation.
Higher yields and lower cost: ECO Farm ECOZ series delivers powerful light output and uniform canopy penetration to resulting maximum higher yields.
'Plug & play' fast installation design makes your grow way easier with lowest maintenance cost and easy installation, specially big saves on shipping.

Save 100%-200% on lighting compared to other brands;
Make you get 30% Higher Yield compare the traditional lamps, Increases revenue with better quality flower,s and higher yield(maximize crop yield by growing vertical);

High yields and low consumption - 2.9 μmol/j ;

Reduce HVAC and electricity costs by 50-60%;

Reflector design with 120 Degree Wide Beam Angle;

Samsung 301H led grow light pre-assembled, easy to use, just plug and play to offer lightyour plants;

Quiet operation, without noise;

Unique optic lens modules guarantee your outstanding PAR output and strong penetrability;

3 Channel dimmers wwitches: VEG , Bloom , UV separately controlled. Freely adjust the light intensity according to different growing stages; VEG dimmer to control white light 5000K, one Bloom dimmer to control white light +red light (3000K+660nm), and UV dimmer to control UV 395nm;

Plug & Play design, horticultural can be easier;

Perfect heat management, cool to touch.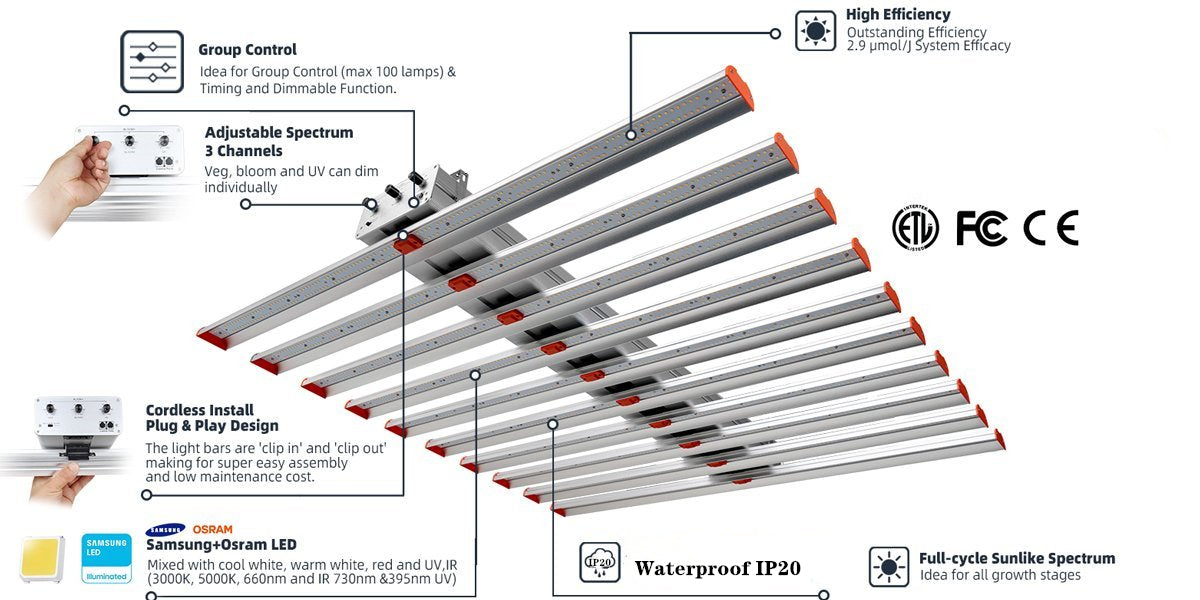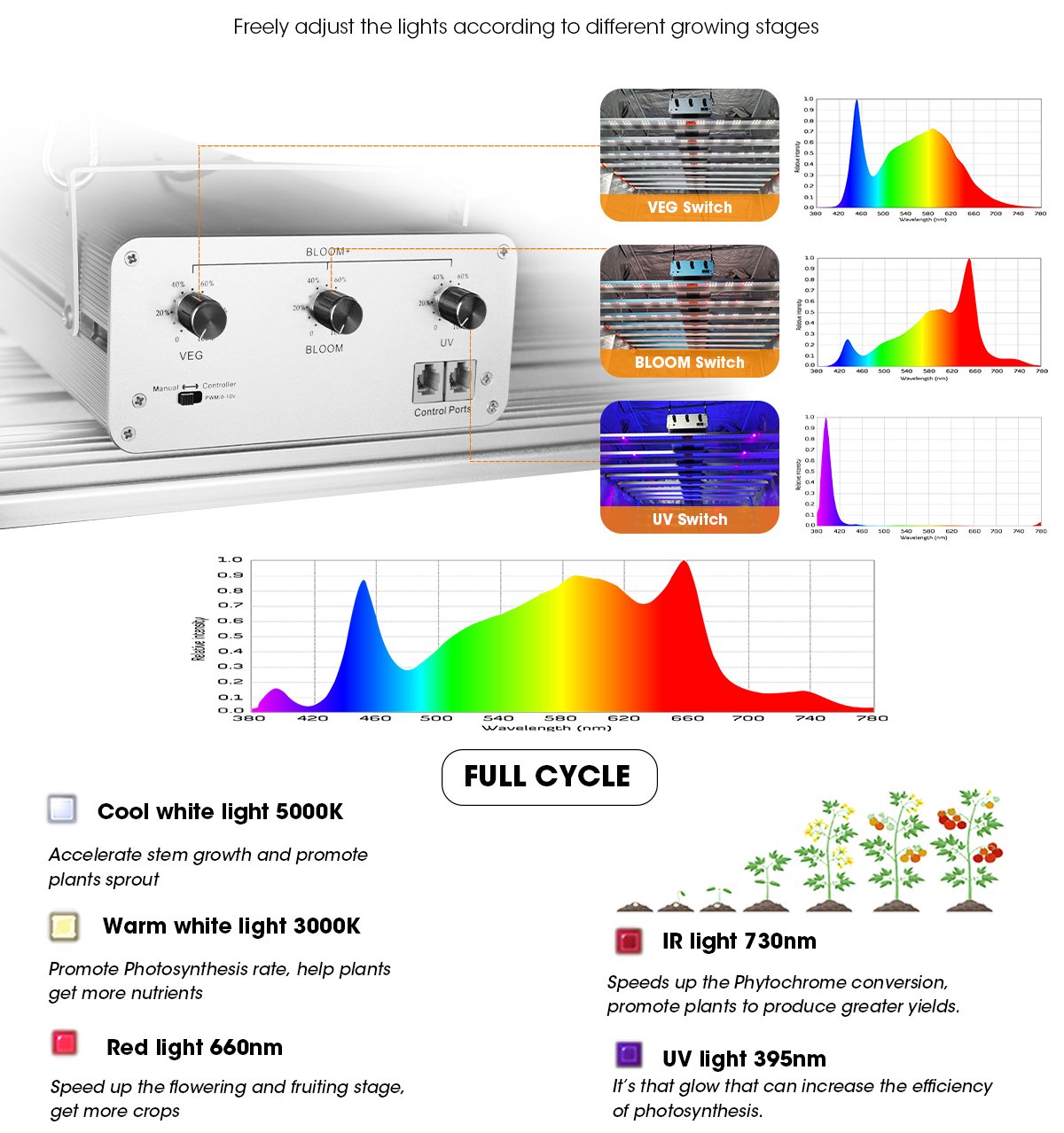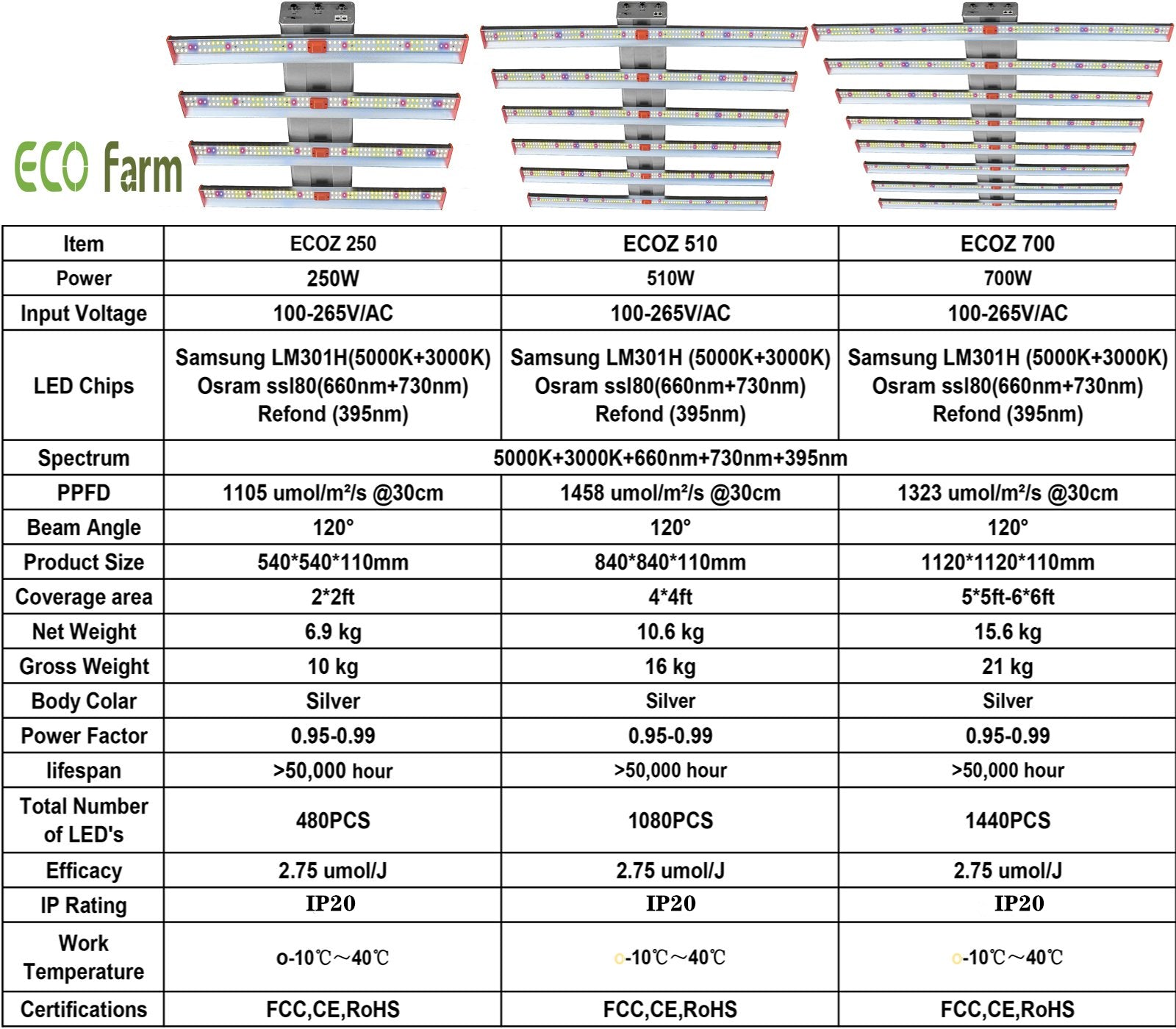 1000W:
Model Code

ECOZ 1000

Power Draw (W)

Samsung LM301H (5000K+3000K)
Osram ssl80(660nm+730nm)
Refond (395nm)

Dimension (CM)

Detachable (Plug-in Type)

 'Clip in' and 'Clip out'

 

making for super easy assembly and maintenance.

Dimmable (Manual/ Controller)

Input Voltage

3 Channels


Veg/Bloom/UV Individually control

Efficiency (umol/j)

PPF

Mounting Height

Max. Ambient Temperature

Operating Temp

20°C ~ 40°C (-4°F ~ 104°F)

Lifetime

Packaging Size

119*33*27cm

Warranty
3 Channels:

External Controller

: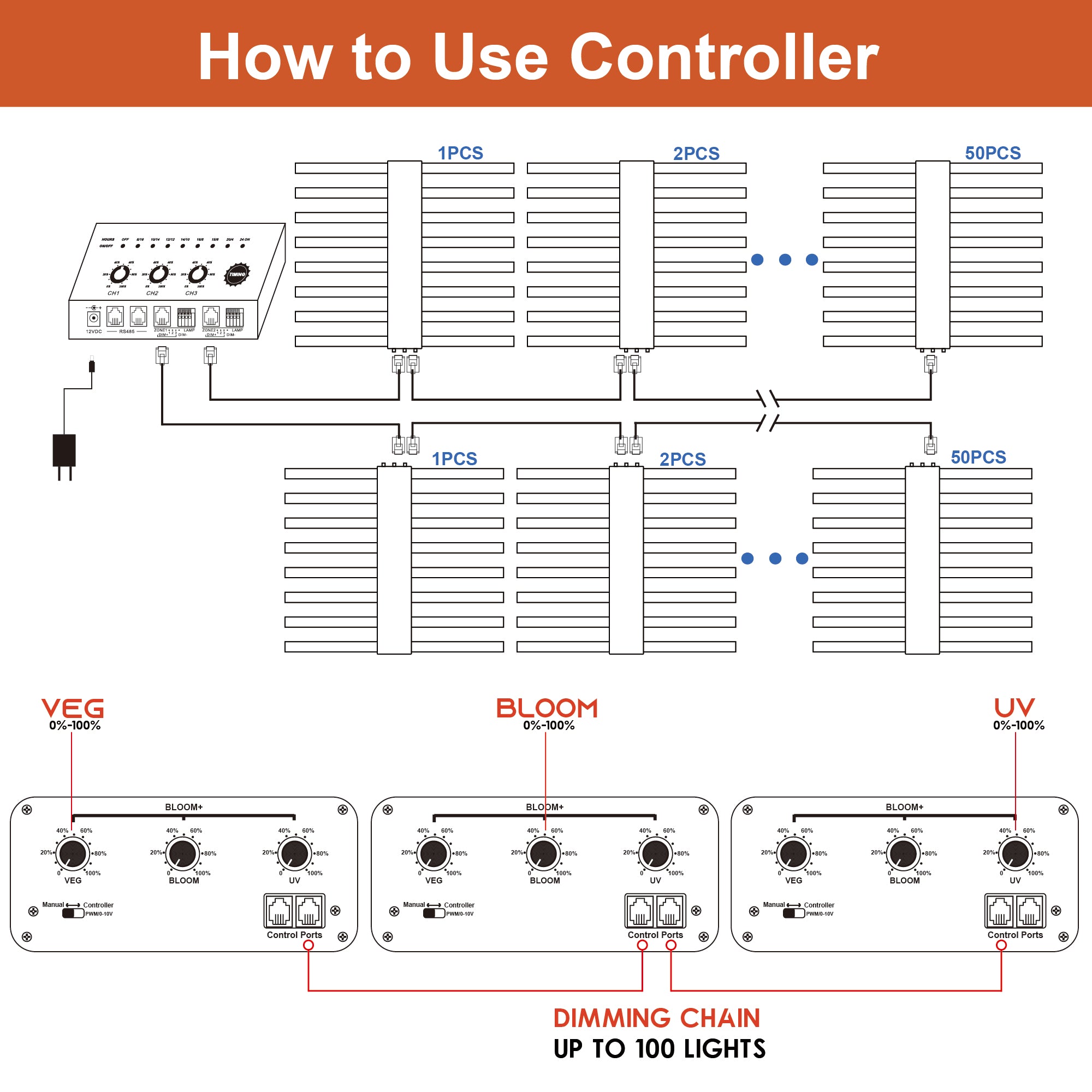 MANUFACTURER'S

 

WARRANTY:
5 years