Description


ECO Farm mixed spectrum provides your houseplants with targeted wavelengths required for precision crop growth. Each color is fully adjustable to modify lighting conditions along with plant development. The result is higher plant quality and more consistency over your end product.
High efficiency and low energy consumption - ECO Farm VEG series LED grow light for Monstera utilizes the latest in high yielding LEDs technology with Samsung 281B+ Epistar chips, delivers a powerful light output and uniform canopy penetration to resulting maximum higher yields. 3000K+6500K+660nm/ 660nm+460nm, ideal for vertical growing.

Passive heat dissipation, No Fan, means ZERO Noise. No Fan Noise Free design will make your growing life easy and quiet, large areas of solid aluminum quickly heat dispersing reducing light lost to aisles and walls, increase the light intensity, allowing your plants receive more energy and without burning your plants for maximum headroom.

ECO Farm 30W/45W/60w LED grow light can replace traditional 100 watt HPS/MH, More effective coverage area than any reflector series lights.

Slim design that is easy to assembly, making it small, compact, and easy to install.

More than 50% higher in PPFD compared with HID light

Energy-saving with 37% lower power consumption.


1. High efficiency low price small watts led grow light bars.
2. Multi spectrum and color for selection.
3. Use the brand led, long working lifetime.
4. Aluminum material, durable and long time use.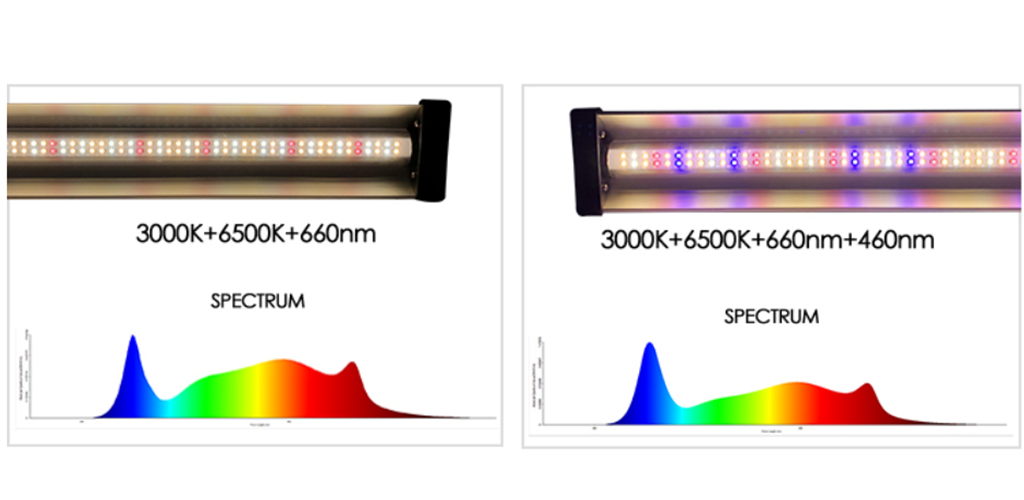 | | |
| --- | --- |
| LED Chips | Samsung LM281B ,Epistar 660nm/460nm |
| | |
| Input Voltage | AC100-277V   |
| Efficacy | 2.1-2.4 μmol/J |
| Power | 30W/45W/60W |
| Size | 600mm/750mm/1030mm length |
| Used for | Grow tent/greenhouse/vertical garden |
| Multiple Control | Power Daisy Chain Up To 20 pcs |
| Application | Seedling/ Flower/Veg |
| Length Suitable for | 30W for 2x2 ft tent , 45W for 3x3 ft tent,60w for 4x4 ft tent |

Each single light bar MOQ is : 2 Pcs, pls pay attention to it.
Frame bracket was optional.